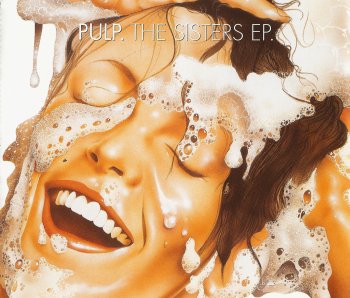 Click here to see more of the artwork
The Sisters EP was released by Pulp in 1994 and was their third single released after the band signed to Island and reached number 19 in the UK charts, their highest chart position at the time.
Babies was originally released as a single on the Gift record label in 1992, then remixed for the 1994 His 'n' Hers album - the version on this EP is an edited version of the original 1992 mix. The other three tracks were recorded during the His 'n' Hers album sessions, but were not included on that album. All the B-sides were re-released on the 2006 His 'n' Hers (deluxe edition) reissue.
The vinyl editions of the EP positioned Your Sister's Clothes at the end of Side A, where the droning noise at the end was faded out to silence. On the CD and cassette editions the droning sound segued directly into the next track, Seconds.
Date

Formats and catalogue numbers

Notes

23 May 1994

CD - CID595

7" black vinyl - IS595

12" vinyl - 12IS595

Cassette - CIS595

Original UK release.

The 12" included a print of the His 'n' Hers album sleeve artwork.

23 August 1996

CD - CID595

UK reissue.

20 November 1996

7" red vinyl - IS595

UK vinyl reissue.

16 June 2023

Streaming and digital download

Newly uploaded to streaming services with a scan of the artwork; the third of a series of Island Records-era EPs to be reissued to coincide with the 2023 tour. Babies was labelled "Single Mix", though was erroneously the 1994 His 'n' Hers album mix.
"Your Sister's Clothes" features the sisters from "Babies" four years on. Now the younger sibling finally gets her revenge for earlier years.
"Seconds" explores the idea that perfect people are... well, perfectly boring to be honest.
Whilst "His 'n' Hers" is one man's fear of domestic interiors set to music.

What are you frightened of ?
(And remember - shove it in sideways)
UK Singles Chart
| Week | Date | Position |
| --- | --- | --- |
| 1 | 4 June '94 | 19 |
| 2 | 11 June '94 | 27 |
| 3 | 18 June '94 | 43 |
| 4 | 25 June '94 | 68 |
Chris Roberts in Melody Maker, 14th May 1994

:
Single of the week 1

It's their time, isn't it? Pulp could never lapse into self-parody. Dive headlong, maybe, but they did that for a kick-off. This is the infamous "Babies" plus three all-new graphic tales of sham-glam dirty realism. "Your Sister's Clothes" takes the characters from "Babies" four years on to a cold revenge and the line: "Try it, you might like if, but you might smudge your lipstick". Only somebody very talented could be from Sheffield AND plump for "smudge" as opposed to "smear", and not irritate me. It's full of those Pulp "crescendos" that are all the more poignant for failing to actually, um, CRESCEND...

In "Seconds" SHE HATES HIS HAIR. The other moment of godlike wisdom comes with a declaration that "sometimes second best is the best that you can get". Very grown-up, that. And "His 'N' Hers" admits to a chronic fear of James Dean posters while suggesting the most effective means of murdering someone with soap-on-a-rope. This would all be very zany and silly if it wasn't so bitter and twisted. Jarvis has his hand so far down his own trousers he's patting himself on the back. Respect is due. This is Soft Cell and hard battles. It's the fears of a clown and it huffs and it puffs and it blows the house down.
Gareth Grundy in Select, June 1994

:
[...] By the same token, too much of PULP's 'Babies' (Island) could result in obsessions with bri-nylon and your sister's sexual habits. It's the customary genial glitz-pop from Sheffield's finest about hiding in the cupboard to spy on your sister shagging her boyfriend. Jarvis Cocker writes like JG Ballard scripting Robin's Nest, and his band - national treasures that they are - would be number one every week in an ideal universe. 'Babies' would have made it to the box marked Single Of The Month, but it was disqualified on the grounds of being a re-issue.