In December 1997 Mark Webber, alongside his former Siegfried's Magick Box bandmate, now Electric Sound of Joy vocalist Greg Kurcewicz and Ben Wallers, vocalist of Country Teasers, set up "Little Stabs at Happiness" a monthly film screening event at the ICA.
The name coming from a Ken Jacobs' short film, "Little Stabs" promised according to its flyers (which featured screenshots from cult films specially handpicked by Mark) an evening of "Quiet Music. Films. Loud Music. Dancing."
This was not the first time that Mark had experimented with hosting a club night as in the late eighties, he and some friends ran the specatacularly named "Groovy Fish Tank" at the now defunct "Take Two" club in Attercliffe, Sheffield, where they DJ'ed and played host to live bands. According to an interview with Rockfeedback.com in 2000, when Mark moved to London in the early nineties, he wanted to set up something similar:
"Little Stabs at Happiness" ran monthly predominantly at the ICA(with one date at the newly reopened Scala in King's Cross and another date in Shanghai) until December 2000, when the last screening, due to celebrate the third birthday of the event, was inexplicably cancelled.
The information below is copied from the former official Pulp Online site (now offline).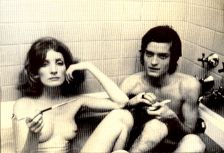 The Beast (Walerian Borowcyk, 1975)
Plus three forgotten shorts
Deep End (Jerzy Skolimowsky, 1970)
Plus: St Therese (Piero Heliczer, 1970); Fuzz Against Junk (Rubington, 1960's); Straight And Narrow (Tony & Beverly Conrad, 1970)
Vampyres (Jose Ramon Larraz, 1974)
Plus: Legend At Big Sur (Walter Chappell, 1974); That's All (Simon Hartog (1965); The Trag-Comedy Of Marriage (Robert Pike, 1957)
Putney Swope (Robert Downey, 1969)
Plus: Winter (David Brooks, 1964-66); T,O,U,C,H,I,N,G, (Paul Sharits, 1968); Science Fiction (Stan VanDerBeek, 1959)
Two Lane Black Top (Monte Hellman, 1972)
Plus: Peaches And Cream (Charles Levine, 1969); Circles Of Confusion (Bill Brand, 1974); Duo Concertantes (Larry Jordan, 1962-64)
Andy Warhol's Bad (Jed Johnston, 1976) (replaced the advertised film "Twisted Nerve" (Roy Boulting, 1969), which was unavailable)
Plus: Ai (Love) (Taka Iimura, 1962); Synchromy (Norman McLaren, 1979); Grey Butterfat Rainbow (Bill Cote, 1967)
Blue Sunshine (Jeff Lieberman, 1978)
Plus: ------ (Thom Anderson & Malcom Brodwick, 1966); Plumb Line (Carolee Schneeman, 1970's); A Lion's Tale (Walter Ungerer, 1968)
The Tenant (Roman Polanski, 1976)
Plus: Little Stabs At Happiness (Ken Jacobs, 1959-63); Award Presentation to Andy Warhol (Jonas Mekas, 1964); An experiment In Meditation (Storm De Hirsch, 1971)
Myra Breckinridge (Michael Sarne, 1974)
Plus: Now (Dennis Irving, 1969); Unsere Afrikareise (Peter Kubelka, 1966); The Girl Chewing Gum (John Smith, 1976)
Greetings (Brian De Palma, 1968)
Plus: Perfect Film (Ken Jacobs, 1986); Uptight...LA Is Burning...Shit (Ben Van Meter, 1969); New Improved Institutional Quality (Owen Land, 1976)
Electra Glide In Blue (James William Guercio, 1973)
Plus: Meatdaze (Jeff Keen, 1968); The Itch-Scratch-Itch-Cycle (Manuel De Landa, 1977); Incontinence (Manuel De Landa, 1978); A Report (Bruce Connor, 1963-67)
Secrets of Sex (Anthony Balch, 1970))
Plus: The Serpent (Scott Bartlett, 1971); The Petrified Dog (Sidney Peterson, 1948); Desistfilm (Stan Brakhage, 1954)
The Wicker Man (Robin Hardy, 1973)
Plus: Fog Line (Larry Gottheim, 1970); Rubber Cement (Robert Breer, 1975); On The Marriage Broker Joke (Owen Land, 1980)
Bonnie And Clyde (Arthur Penn, 1967)
Plus: Defense D'Afficher (Hy Hirsch, 1955); Raw Nerves (Manuel De Landa, 1979); Lapis (James Whitney, 1963-66)
The Hardcore Life (Paul Schrader, 1978)
Plus: Versailles (Chris Garratt, 1976); Standard Time (Michael Snow, 1967); The Candidates (Richard Preston, 1964)
The Last Detail (Hal Ashby, 1973)
Plus: Ciao Bella (Betzy Bromberg, 1978); A History Of Motion In Motion (Stan VanDerBeek, 1966); 24 Frames Per Second (Taka Iimura, 1975-78)
Jaws (Steven Spielberg, 1975)
Plus: Number 7 (Harry Smith, 1951); Nitsch (Irm & Ed Sommer, 1969); Valse Triste (Bruce Conner, 1977)
Out Of The Blue (Dennis Hopper, 1980)
Plus: San Francisco (Anthony Stern, 1968); Scorpio Rising (Kenneth Anger, 1963); Oblivion (Tom Chomont, 1969-70)
flyer
Fahrenheit 451 (Francois Truffaut, 1966)
Plus: Speak (John Latham, 1968-69); The Autumn Feast (Piero Heliczer, 1967); Remedial Reading Comprehension (George Landow, 1970)
The Last Picture Show (Peter Bogdanovich, 1971)
Plus: Threshold (Malcolm Le Grice, 1972); Film Form 1 (Stan Vanderbeek, 1970); We Shall March Again, (Lenny Lipton, 1965)
Harold and Maude (Hal Ashby, 1971)
Plus: Surfacing The Thames (David Rimmer, 1970); In Quest Of Meat Joy (Carolee Schneeman, 1968-69); Visions Of A City (Larry Jordan, 1957)
Night Of The Hunter (Charles Laughton, 1955)
Plus screenings of short videos and films by Webber (the first two), Wallers (the second two) and Kurcewicz (the last two Super 8 films).
Silent Running (USA, 1968)
Not a Little Stabs At Happiness night as such, just Mark and BR Wallers in the ICA Bar followed by the feature film.
The Parallax View (Alan J Pakula, 1974)
Plus: Shower Proof (Fred Drummond, 1968, UK); Serious Remembered (Stan Brakhage, 1959, UK); The Film That Rises To the Surface Of Clarified Butter (Owen Land, 1968, USA)
Star 80 (Bob Fosse, USA 1983)
Plus: La Premiere Nuit (Georges Franju, 1957, France); Gyromorphosis (Hy Hirsch, 1955, USA); I, An Actress (George Kuchar, 1977, USA)
Kid Blue (James Frawley, USA, 1973)
Plus: River Of Stars, Bruce Wood, 1975, USA; Little Dog For Roger, Malcolm Le Grice, 1968, UK; Valentin De Las Sierras, Bruce Baillie, 1967, USA
Taking Off (Milos Foreman, USA, 1971)
Plus: Globe, Ken Jacobs, 1973, USA; Tantra 1, Gordon Payne, 1969, USA; High Stepping, Roger Hammond, 1974, UK
Mickey One (Arthur Penn, USA, 1965)
Plus: A & B In Ontario - Joyce Wieland, 1984, Canada; What's Wrong With This Picture - Owen Land (formerly known as George
Landow), 1972, USA; Piece Touchee - Martin Arnold, 1989, Austria
Days of Heaven (Terrence Malick, 1978, USA)
Plus: Migration - David Rimmer, 1969, Canada; Barn Rushes - Larry Gottheim, 1971, USA; 3/60 : Baum in Herbst - Kurt Kren, 1960, Germany
Theorem (Pier Paolo Pasolini, 1969, Italy)
Plus: Shutter - Taka Iimura, 1971, Japan ; X - Vincent Grenier, 1976, Canada; Tung - Bruce Baillie, 1966, USA
flyer Saturday 9 September 2000
Christiane F. (Ulrich Edel, 1981, Germany)
Plus: Kino Da! - Henry Hills, USA, 1981; Epileptic Seizure Comparison - Paul Sharits, 1976, USA; An Aesthetic Quality - Vaughn Obern, 1967, USA
Witchfinder General (Michael Reeves, UK, 1968)
Plus: Le Sexe Enrage - Roland Lethem, 1970, Belgium
The Visible Compendium - Larry Jordan, 1991, USA
The Dead - Stan Brakhage 1960, USA
Clockwork Orange (Stanley Kubrick, UK, 1971)
Plus: Boobs A Lot - Aggy Read, 1968, Australia
Marilyn Times Five - Bruce Conner, 1968-73, USA
Flak - Graeme Ewens, 1970, UK
The Machine That Kills Bad People (Roberto Rossellini, 1952)
Plus: Nitsch - Irm & Ed Sommer, 1969
Straight and Narrow - Tony & Beverly Conrad, 1970
Incontinence: A Diarrhetic Flow of Mismatches - Manuel De Landa, 1978