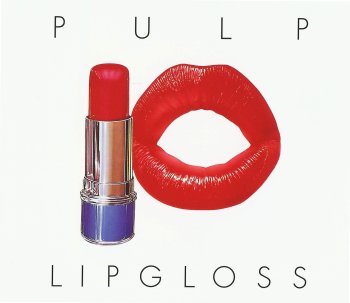 Click here to see more of the artwork
Release date: 15 November 1993
Label: Island
Formats: CD, 7", 12", cassette
Recorded
Chart position: 50

(UK)
Lipgloss is a song by British rock band Pulp, from their 1994 album, His 'n' Hers. It was released 12th November 1993 as the second single from the album, charting at #50 in the UK Singles Chart.
The lyrics are about a woman who cannot seduce her boyfriend anymore because she has "lost her lipgloss". This appears to be a metaphor for losing 'it', her sex appeal.
Some of the CDs that were put on sale were incorrectly marked as "Promo only, not for sale".
You're a Nightmare also features on the 2006 Complete Peel Sessions compilation.
Deep Fried in Kelvin is the longest song Pulp have released.
Date

Formats and catalogue numbers

Notes

12 November 1993

CD - CID567
7" black vinyl - IS567
12" vinyl - 12IS567
Cassette - CIS567

Original release.

Many copies of the CD are erroneously marked 'Promo only: not for sale'.

23 August 1996

CD - CID567
7" red vinyl - IS567

Reissue

2 June 2023

Streaming and digital download

Newly uploaded to streaming services as "Lipgloss EP" with a scan of the original artwork, the first of a series of Island Records-era EPs to be reissued to coincide with the 2023 tour.
Lipgloss starts with a slow fade in. The CD single opens with 0.3 seconds of silence, then a fade in from silence; the His 'n' Hers album version starts with some (largely inaudible) tape noise from the end of Joyriders; and the 2023 digital/streaming EP cuts 1.25 seconds from the start, reducing the fade in slightly.
The 2019 remaster of His 'n' Hers for vinyl includes an extra "oh yeah" vocal at 3:08.
Welcome to the new era.
Now we all live on cosmetics and garage food...
We might look rough but we've got beautiful insides.
But everything's going to be alright.
Just as long as you mind the low-flying televisions.
UK Singles Chart
| Week | Date | Position |
| --- | --- | --- |
| 1 | 27 November '93 | 50 |
| 2 | 4 December '93 | 64 |
Today's popological teaser is to explain the strange case of Pulp, a band who have for ten years stuck resolutely to their task of being Pulp, waiting with saintly reserves of patience for the rest of the world to cotton on to what they're doing. And now that the world finally has, Pulp offer a major label debut which in many ways is a cartoon version of themselves.

Were 'Lipgloss' a stick of rock - and anything seems possible in Pulpland - we could see the words "kitchen sink" etched through the middle. Lumme! With a surfeit of loop-da-loopy keyboard loopiness from Candida Doyle and lashings of positively barking boy guitar spangle from the good Russell atop an urgent shuffle beat, this sounds not so far from the Pulp variant as bowdlerised by bacofoil-sponsored Mancunians World Of Twist back in the "good", "old" days of 1990. Thanks to Jarvis' idiosyncratic line in melodrama, though, matters land on the right side of self-parody and 'Lipgloss' emerges unscathed, a ravishsome beast.

The subtext to all this is that Pulp are about to 'make it' in a fairly colossal way, which would be nice if that's what they want: to this end, the ten-minute epic 'Deep Friend In Kelvin' plus the more familiarly downbeat 'You're A Nightmare' serve as a crash course for those who couldn't be bothered tuning in before now. And are they gonna sue the Tindersticks or what?
Melody Maker, 13th November 1993

:
Sounds like The Jam's "Precious" dressed up by Quentin Crisp, a celebration of the cheap fake fur and bangles that constitute the English view of glamour. Which is not an insult.

"You had it all once / But now it's gone", taunts Jarvis Cocker at a less stylish fashion adversary, with the assured swagger of a man one step ahead of his wardrobe-casualty peers.

Unlike the vacuous Saint Etienne, Pulp do not sterilise the filth from their finery, so that, like Soft Cell before them, they present the full, dirty glory of being a down and out drama queen with magnificent verve. Lying in a gutter, looking at the stars...