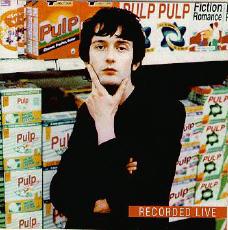 Date: 1994
Format: CD
Label: Kiss The Stone
Catalogue number: KTS317
The recording location of this bootleg has long been uncertain as the artwork only says it's recorded 'on tour in 94'. The source is often given as Alexandra Palace, London (7 October 1994), presumably because a soundboard recording of Blur's headline slot from this date is also in circulation. However, the actual source is certainly a BBC radio broadcast of Pulp supporting Blur at Aston Villa Leisure Centre, Birmingham on 5 October. This is confirmed by a recording of the radio broadcast from another source, which is identical to this recording, except it reveals the bootlegger cut out some of Jarvis' between song chat, including references to being on the radio and in Birmingham.